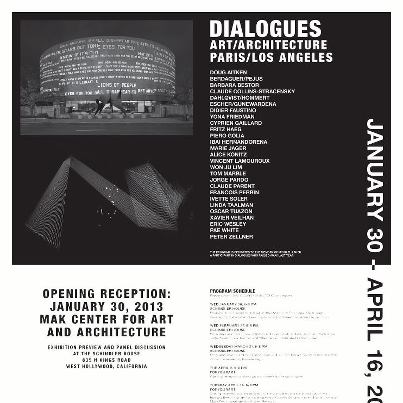 DIALOGUES ART/ARCHITECTURE PARIS/LOS ANGELES
January 30–April 16, 2013
Practitioners and the public share exchanges across disciplines and national boundaries in salons, exhibition and publication
(West Hollywood, January 15, 2013) The MAK Center for Art and Architecture and ForYourArt host DIALOGUES: Art/Architecture, Paris/Los Angeles, an event in several modes that brings together artists and architects from Paris and L.A. to share their experiences and ideas. Leading off will be a series of three discussions at the Schindler House, followed by an exhibition of drawings and models at ForYourArt, as well as a final panel discussion for the launch of the publication that will gather works by the participants, documentation of their exchanges, and essays.
DIALOGUES is organized by Francois Perrin, a French architect practicing in Los Angeles. He previously curated the exhibition Yves Klein: Air Architecture at the MAK Center in 2004. Participating artists and architects have been invited based on their continuing cross-disciplinary work. Several of the artists often work in the architectural field, and many of the architects collaborate with artists. DIALOGUES contributors include: Doug Aitken, Berdaguer/Pejus, Barbara Bestor, Claude Collins-Stracensky, Dahlqvist/Hommert, Escher/Gunewardena, Didier Faustino, Yona Friedman, Cyprien Gaillard, Fritz Haeg, Piero Golia, Ibai Hernandorena, Marie Jager, Alice Konitz, Vincent Lamouroux, Won Ju Lim, Tom Marble, Jorge Pardo, Claude Parent, Francois Perrin, Ivette Soler, Linda Taalman, Oscar Tuazon, Xavier Veilhan, Eric Wesley, Pae White and Peter Zellner.
DIALOGUES revives the vibrant salon spirit of the Schindler House in the 1920s by gathering artists and architects from Los Angeles and Europe to share and discuss their work with the public. Four informal panels will be presented in a salon-style format that invites the public to participate. These discussions will engage the intersections and differences between art and architecture and mirror the complex relationships between artists and architects, the city of Paris and L.A.
The public may familiarize itself with the works of the participants through the website dialoguesproject.org, which will present current projects, links to websites, and a map highlighting participants' work in the Los Angeles region. At ForYourArt, the exhibition will provide the opportunity to see drawings and models by the many DIALOGUES contributors, including those who are participating in the project long-distance. The publication will compile works by each of the participants, along with texts and interviews documenting the DIALOGUES process. It will also include essays by critics and journalists Andrew Berardini, Julie Boukobza, Marissa Gluck, Sam Lubell, Francois Perrin, Danielle Rago, Jan Tumlir, and Mimi Zeiger.
The public opening reception will be held at the Schindler House on Wednesday, January 30 from 6:00–8:00 p.m. with a preview of the drawing's exhibition followed by the first panel discussion. Two additional panels will be held at the Schindler House, February 27 and March 27, with the final panel at ForYourArt. On Tuesday, April 2 from 6:00–8:00 p.m., there will be an opening reception for the exhibition at ForYourArt. It will remain on view until Tuesday, April 16. A closing reception that evening will include the presentation of the DIALOGUES publication, as well as the final panel. Events at both venues are offered free of charge.
PROGRAM SCHEDULE (please consult http://www.dialoguesproject.org/ for updates)
WEDNESDAY JANUARY 30, 2013, 6-8 PM, SCHINDLER HOUSE Program launch reception and panel discussion with Fritz Haeg, Marie Jager, Alice Konitz, Ivette Soler and Oscar Tuazon, moderated by Jan Tumlir
WEDNESDAY FEBRUARY 27, 2013, 6-8 PM, SCHINDLER HOUSE Panel discussion with Joakim Dahlqvist, Didier Faustino, Jens Hommert, Piero Golia, Jorge Pardo, Linda Taalman and Peter Zellner, moderated by Sam Lubell
WEDNESDAY MARCH 27, 2013, 6-8 PM, SCHINDLER HOUSE Panel discussion with Frank Escher, Won Ju Lim, Tom Marble, Xavier Veilhan and Pae White, moderated by Danielle Rago
TUESDAY APRIL 2, 2013, 6-8 PM, FORYOURART Opening reception of drawings and models by the participants
TUESDAY APRIL 16, 2013, 6-8 PM, FORYOURART Closing reception and presentation of the publication and panel discussion with Barbara Bestor, Claude Collins-Stracensky, Cyprien Gaillard, Vincent Lamouroux and Marie Pejus moderated by Andrew Berardini
THE PROGRAM IS DEDICATED TO THE MEMORY OF MICHAEL ASHER, A PARTICIPANT IN DIALOGUES WHO PASSED AWAY LAST YEAR
The program is part of "Ceci n'est pas…Art between France and Los Angeles" a five months art and cultural exchange. It is supported by Etant Donnes, The French American Fund for Contemporary Art and The Department of Cultural Affairs of the City of Los Angeles.
The MAK Center for Art & Architecture at the Schindler House is located at 835 N. Kings Road in West Hollywood. Public hours are Wednesday through Sunday, 11 a.m. to 6 p.m. Regular admission is $7/$17 with the guidebook, Schindler By MAK; students and seniors, $6/$16 with book; free for Friends of the MAK Center and on Fridays, 4 to 6 p.m. Parking is available at the public structure at the northeast corner of Kings Road and Santa Monica Boulevard. For further information, the public may contact www.MAKcenter.org or call (323) 651-1510.
ForYourArt produces and hosts activities at 6020 Wilshire Blvd. to promote engagement with art, Los Angeles, and the Miracle Mile as part of its broad mission to create content to frame and support the activities of artists, curators, and institutions. Generally open Mon-Thurs. 11 a.m. to 4 p.m.; please call ahead to confirm (323) 951-9790 ext. 3. www.foryourart.com